#
Concluded Myers Briggs Personality Type – ISFP
Net Worth: $6 million – 2018
Quotes:
"He has a lot of quality, he's young and he's arrived with a lot of enthusiasm" – Gerard Pique, his centre-back partner. His game matches that of the Spaniard perfectly.

"He's mature at 22 years old" – France coach Didier Deschamps, speaking about Umtiti, whom he picked in the Euros final.

"He passed all the filters" – sporting director Robert Fernandez, who knows it's difficult to sign a good Barça centre-back. "He has a maturity out of the the norm," he added.

"Play how you know" – Luis Enrique told Umtiti this before the Joan Gamper. And the Frenchman did so on the pitch.

"He gives us life" – Sergi Darder, of Lyon, spoke wonders of his former team-mate. "He can be the best in the world," he added. "It's like he's 30 but he's only 22."

"He's a world class player" – Eric Abidal. Who better to comment on a French Barcelona defender?

"If Umtiti's here it's because he deserves it" – Patrice Evra defended Umtiti's presence in the France squad

"Barcelona should invite me to the Champions League final for gifting them Umtiti" – Lyon's president on the cheap price Barcelona got him for.

"He has great potential" – Sergio Busquets, who has found in Umtiti a firm ally when it comes to constructing the play.

"He has the quality to start for Barcelona" – Andre-Pierre Gignac, who has to play against him in France training.
Live Interview Videos:
[youtube]https://www.youtube.com/watch?v=t-sYw0Yz–A[/youtube]
[youtube]https://www.youtube.com/watch?v=Mf9i3p-tGNs[/youtube]
[youtube]https://www.youtube.com/watch?v=cBAilVmVUVc[/youtube]
Bio & Career stats:
First name

Samuel Yves

Last name

Umtiti

Nationality

France

Date of birth

14 November 1993

Age

24

Country of birth

Cameroon

Place of birth

Yaoundé

Position

Defender

Height

182 cm

Weight

75 kg

Foot

Left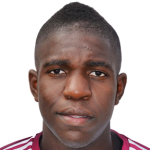 CAREER
Season
Team
Comp
2018/2019
Barcelona
LAL
469
6
5
1
1
1
2
2017/2018
Barcelona
LAL
2189
25
24
1
1
4
1
7
2016/2017
Barcelona
LAL
2133
25
24
1
2
9
1
4
2015/2016
Olympique Lyonnais
LI1
2658
30
30
2
1
6
2014/2015
Olympique Lyonnais
LI1
3089
35
35
1
1
5
2013/2014
Olympique Lyonnais
LI1
2340
28
27
1
1
3
3
1
2012/2013
Olympique Lyonnais
LI1
2259
26
25
1
1
8
1
5
2012/2013
Olympique Lyon…
NA2
180
2
2
1
2011/2012
Olympique Lyonnais
LI1
1003
12
11
1
13
2
2011/2012
Olympique Lyon…
NA2
540
6
6
1
2010/2011
Olympique Lyon…
NA2
1077
13
12
1
3
2
1
Total
17937
208
201
7
12
40
5
37
1
TROPHIES
National
World Cup
Winner
1x
2018 Russia
European Championship
Runner-up
1x
2016 France
U20 World Cup
Winner
1x
2013 Turkey
Club Domestic
La Liga
Winner
1x
2017/2018
Runner-up
1x
2016/2017
Ligue 1
Runner-up
2x
2015/2016, 2014/2015
Copa del Rey
Winner
2x
2017/2018, 2016/2017
Coupe de France
Winner
1x
2011/2012
Coupe de la Ligue
Runner-up
2x
2013/2014, 2011/2012
Super Cup
Winner
2x
2018/2019, 2016/2017
Runner-up
1x
2017/2018
Trophée des Champions
Winner
1x
2012/2013
Runner-up
1x
2015/2016
Supercopa de Catalunya
Winner
1x
2018
Runner-up
1x
2016
Trofeo Joan Gamper
Winner
3x
2018, 2017, 2016
TRANSFERS & LOANS
| Per | From | To | Value |
| --- | --- | --- | --- |
| 15/07/16 | Lyon | Barcelona | € 25M |
SIDELINED
| | Description | Start Date | End Date |
| --- | --- | --- | --- |
| | Knee Injury | 28/09/18 | |
| | Knee Injury | 22/06/18 | 25/06/18 |
| | Knee Injury | 07/05/18 | 17/05/18 |
| | Suspended | 05/02/18 | 12/02/18 |
| | Thigh Muscle Rupture | 03/12/17 | 20/01/18 |
| | Hamstring | 10/11/16 | 29/11/16 |
| | Knee Injury | 18/09/16 | 12/10/16 |
| | Suspended | 22/02/16 | 29/02/16 |
| | Hip/Thigh Injury | 10/11/15 | 29/12/15 |
| | Suspended | 27/10/15 | 02/11/15 |
| | Suspended | 17/03/15 | 23/03/15 |
| | Thigh Muscle Strain | 17/08/14 | 10/09/14 |
| | Thigh Muscle Strain | 22/03/14 | 02/04/14 |
| | Suspended | 03/02/14 | 06/02/14 |
| | Thigh Muscle Strain | 05/10/13 | 30/10/13 |
| | Suspended | 03/06/13 | 27/08/13 |
| | Thigh Muscle Strain | 17/05/13 | 30/05/13 |
| | Suspended | 24/12/12 | 10/01/13 |
MATCHES OF S. UMTITI
Wed
26/09/18
LAL
Leganés
2 – 1
Barcelona
View events
More info
Sun
23/09/18
LAL
Barcelona
2 – 2
Girona
View events
More info
Tue
18/09/18
UCL
Barcelona
4 – 0
PSV
 
View events
More info
Sat
15/09/18
LAL
Real Sociedad
1 – 2
Barcelona
View events
More info
Sun
09/09/18
UNL
France
2 – 1
Netherlands
View events
More info
Thu
06/09/18
UNL
Germany
0 – 0
France
More info
Sun
02/09/18
LAL
Barcelona
8 – 2
Huesca
View events
More info
Sat
25/08/18
LAL
Real Valladolid
0 – 1
Barcelona
View events
More info
Sat
18/08/18
LAL
Barcelona
3 – 0
Deportivo Alavés
View events
More info
Wed
15/08/18
TJG
Barcelona
3 – 0
Boca Juniors